This 6 week group coaching program led by Amen Licensed Brain Trainer Kate Kunkel includes material from the powerful BRIGHTMINDS program by neuropsychiatrist Dr. Daniel G. Amen.
In Memory Rescue Plus, you will be taking a momentous step to stop memory loss, slow down aging, and prevent dementia by improving the health of your brain.
What is Memory Rescue?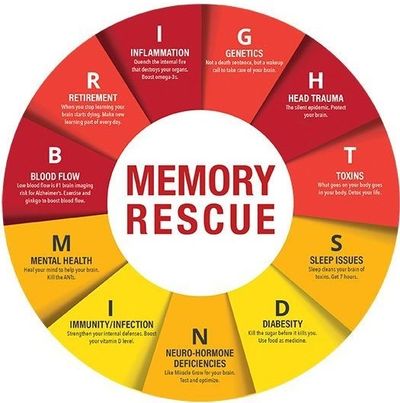 The Basics
· Learn the Memory Rescue mnemonic BRIGHT MINDS.
· Gain insight into the importance of the hippocampus and its role in memory, mood, and movement.
· Understand the significance of actively engaging in brain health as soon as possible.
What does your Heart have to do with it?
· Learn the risk factors that impede blood flow.
· Discover how blood flow impacts our brains and bodies.
Is forgetting Normal?
· Discover how normal aging affects memory.
· Understand how new learning helps with brain health.
· Learn simple things you can do to slow down the brain aging process.
What's your Gut have to do with it?
· Discover what happens in your body when you have inflammation.
· Gain an understanding of how the foods you eat and the health of your gut impact inflammation.
· Learn which foods fight inflammation.
How does Memory Work?
What's the PLUS from Kate?
This is not just a course. In the six weeks you spend with Kate, you will be guided through every aspect of the course developed by Dr. Amen, and enhanced by the support and knowledge provided by Kate.
With weekly coaching sessions, additional creative and meditation materials and ongoing support, Kate has added an extra, personal dimension to this already great start to a healthier brain and a better memory.
Not Just a Course
The material in Memory Rescue is powerful, but it can be overwhelming when you are just left to your own devices.
That's why, in Memory Rescue Plus, Kate has created a complete coaching program incorporating not just the material in Dr. Amen's course, but extra material and weekly group coaching sessions. Don't worry if you can't make it live – they will be recorded, and you can submit questions in advance.
Support Every Step of the Way
Big changes are hard to make on your own, so not only do we have the weekly group meetings, we also have a private Facebook group where you will have the opportunity to share wins, ask questions, and get support every day.
The Next Group Coaching Program starts October, 2021.
Contact Kate for a FREE 30 minute consultation to learn more about Memory Rescue Plus and how it can help you with your brain health. Schedule your meeting HERE.
Bonus #1 for Fall 2021 Edition
One Private Online Coaching Session
In addition to the group coaching sessions each week, Kate is offering a personal coaching session to every registrant. You will have an opportunity to discuss your goals, and develop a personal plan of action to get the most out of your experience.

You will NOT be left to fend for yourself. Kate wants you to succeed and make the lifestyle changes that must happen to give you the best chance to nurture a healthier body and a robust, more powerful brain.
This is a Value of $100.
Bonus #2 for June 2021 Edition
Don't Let the Memories Fade
In addition to being a licensed Amen Brain Trainer, Kate is also the creator of Brain Health Matters, a series of educational events, programs and courses designed around her best-selling book, "Don't Let the Memories Fade".
This comprehensive, Holistic Approach to Preventing Dementia and Creating a Healthier, More Vibrant Future is the result of a decade of research into brain health.
As a participant in the Fall 2021 edition of Memory Rescue Plus, you will be gifted with a copy of the book in e-format.
The more you know, well… the more you know!